I'm Robert McDonald, owner and operator of Sunshine Coast Cleaner. Starting out as a cleaner at 17 as an after-school job, I soon learned the ins and outs of the industry. Life took a few different paths, including owning and running my own window cleaning business in the 80's.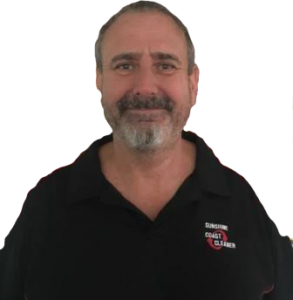 As the saying goes, life has come a full circle and here I am today servicing the Beautiful Sunshine Coast running Sunshine Coast Cleaners. Using the knowledge, I've gained throughout the years, and tips and tricks from different sources, every clean is thorough and leaves customers with a smile! We have a tight-knit team of hardworking cleaners who never fail to impress and have many years of experience between them.
We have realised after working our business for 3 plus years on the coast, that there is a lot of competition and varying standards of professionalism.
Our aim is to maintain our high standard and put ourselves in a position to offer our services as a one stop shop. We offer a wide range of services over and above cleaning – carpets, pest management, high pressure cleans, flood recovery – and we are Licensed and fully Insured.
Some of our regular clientele include: commercial businesses, industrial businesses, management rights apartment buildings, gyms, show homes and domestic homes.
Every day is varied. We are able to take on the big and the not so big jobs. As our moto says "We Do It All"
We are based in Little Mountain. From here it does not take long to get anywhere. We can hit the Bruce in 7 minutes and go in any direction we need quickly. We have regular work in the Coolum and Mudjimba area, Buderim, Nambour, Maroochydore, Mooloolaba, Kawana, Birtinya, Harmony, Caloundra, Pelican Waters, Aura and in between.
We have various types of equipment so it enables us to work in private homes and in apartment buildings, even some without lifts which means we can tackle almost any job without hesitation.
Having been working on the Sunshine Coast for the past 3 plus years in this industry, we have seen many changes to the area especially the huge increase in rental properties. Bond cleans are a big part of our business and we get many return customers because they know we guarantee our work and we know the standard the Property Managers require.
To ensure we can "do it all", Rob has gained his Pest Licence which means when we complete a bond clean, we can also do the pest which is usually required under the lease agreement – no need to get another company in.
We have a good training system so that all those who work for us know the standard and the style of clean we expect. Our clients can be assured that they will always have the set standard of clean no matter which one of our team completes the job.
We have a uniform for our workers, it is important that they stand out whilst on the job. We want to be recognised as a professional company with professional standards.
Rob is a people person and quickly forms a good relationship with his clients. Many of the recommendations come due to Robs ability to get along with people. He is not fazed by some of the jobs he has had to tackle and if he can't do it he will recommend someone who can.